Okay, this is a post that I am making purely out of love for my followers and fellow bloggers. If you are a blogger like myself and you are aspiring to be successful like "Sophia's Journal" or "Colormenana" or "Little Chief Honey Bee" well. You are going to run into haters. There have been a few hateful comments towards my blog (The reason now why I approve every comment that comes in). While 97% of the comments are positive and loving and make me smile the other 3% are just mean, hateful comments. But never have I before had a blog written about me. Which has happened. Though I do see where the girl is coming from and why she is not happy with me, but the fact that someone writes a blog about you just to make you feel bad about yourself is NOT the right way approach it.
Maybe the girl is just insecure? She needs to make fun of other people?
Oh well, I am not a licensed therapist. And no I will not tell you her name or her blog, because, well I am not going to stoop to the level of making other people feel bad. I will not leave a comment on her site saying to "Check it out". I hope she learns to be a better person though. I guess we'll see, right?
But anyway, onto what the post is about.
How to deal with hater's.
(Not only in the blogging community, but life as well.)
Whether it is about how "annoying" you are, or how you don't capitalize your letters, or the way you look.
There are going to be haters. That's life. I am going to show you guys my approach to dealing with them.
1.) Let them hate, don't fire back.
2.) Ignore them. They thrive off of your anger.
3.) Don't let it get to you.
4.) Remember the people that love you are all that matter.
and
5.) Remember, if you maintain a positive attitude towards life and you are not a hater you will succeed more in life. It's guaranteed.
So - I know that those are short and sweet. But I think they get my point across. Blogging and life is not meant to make fun of other people and to make them feel bad about themselves. It's about making YOURSELF feel better. Doing something you enjoy should not have consequences of making you not enjoy it. So, friends, followers, just people that are reading this post. Do me a favor, and stand up for "Nice Bloggers".
In doing that, you guys can take part in the "Kind Hearted Blogger Pledge". I already have, and so should you (well, if you want. lol.)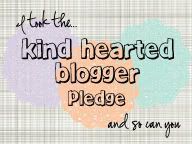 (for the HTML code just click on the "Kind Hearted Blogger Pledge" link up a little ways.)
Just post this button somewhere on your blog - Or you can just read this and mentally take part. Whatever. :)
AS A KIND-HEARTED BLOGGER YOU PLEDGE TO:
create, inspire, and admire rather than compete with fellow bloggers.

be understanding of each other-- in the blogging community, as well as in the world.

stay away from internet/blogging bullying.

speak my opinion freely, while still being mindful of other's feelings-- be tactful.

make an effort--no matter how big or small the gesture, to spread kindness or joy to others.

acknowledge that I will make mistakes, (I am only human) but remember to learn from them.

know that at times I will post about the negative stuff in life, and maybe even some complaining (I am only human) but I will always follow up with something happy/positive too.

believe that this world is a good place, filled with good people.
If you do take part, I will make sure to link you in either this post or another "Kind Heart" page. So let me know if you do so.
Have a wonderful day, and I hope to see you guys taking part! :)
PS: Photos from weheartit.com